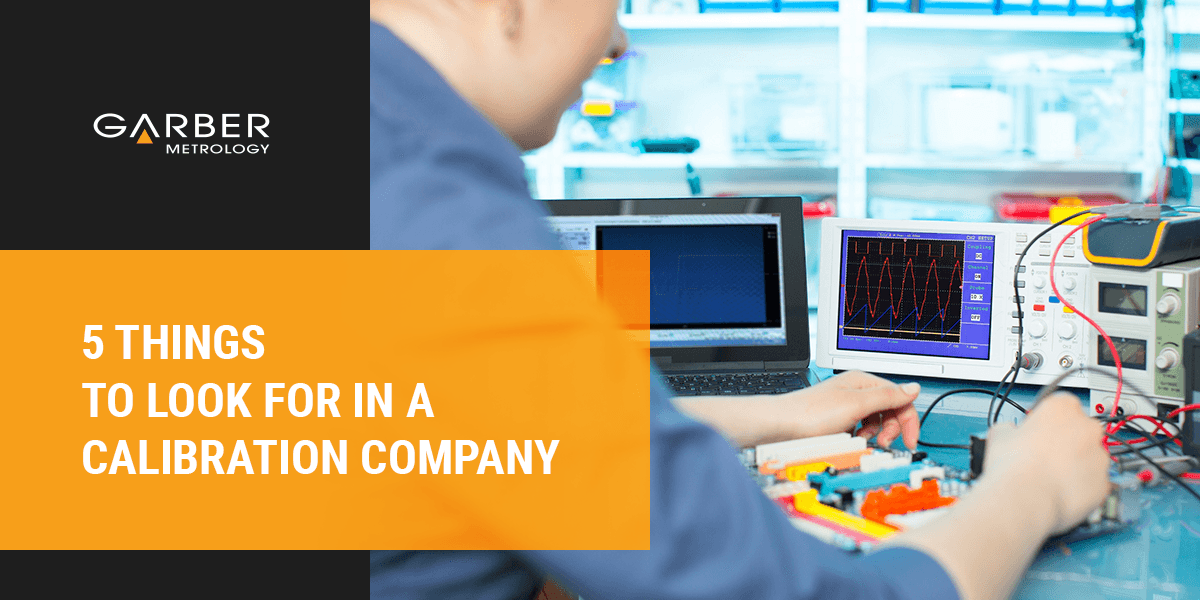 Industries from pharmaceutical processing to military contracting use weighing and measuring equipment to meet compliance, accuracy and safety standards. Unfortunately, every measuring instrument loses effectiveness over time due to everyday wear. Calibrating your measuring equipment provides several benefits, including longer instrument life, accurate measurements, easier certification and reduced costs.
When it's time to calibrate your equipment, you need a calibration laboratory you can trust to provide efficiency and peace of mind. Here are a few things to consider when choosing calibration services for your equipment.
1. Accuracy
You want the measuring equipment at your company to be as accurate as possible. Accurate calibration equipment can deliver more exact results, increasing your equipment's effectiveness.
An accurate calibration lab will either send a trained technician to your company or calibrate your equipment in a laboratory. The technician will measure your instrument against a standard during the calibration process to see if the measurements match.
If your equipment provides a different reading than the standard and is outside the standard accuracy ratio, the technician will determine the issue. Then, they will make adjustments to your instrument until the reading is accurate.
In addition, a good calibration lab will provide certificates on the services performed so you can verify their testing. This practice increases transparency and gives you peace of mind about your measuring instruments.
2. Capabilities
Precision calibration is essential for determining your equipment's accuracy and performance. With countless industries using metrology equipment, calibration labs need the expertise and capabilities to work with multiple equipment types. For example, calibrating a thermometer requires a different process than calibrating a sensor.
The right calibration service provider will be able to handle all of your calibration needs, including:
Pressure and Vacuum Calibration
Pressure gages are prevalent in food and beverage processing facilities, laboratories, oil refineries and other scientific applications. Pressure and vacuum calibration use computerized pressure modules to test whether pressure gages deliver accurate results, helping businesses meet customer expectations and comply with industry standards.
Electronic Calibration
A wide range of industries need to measure electrical parameters like current, voltage, resistance, time and frequency. Calibration labs perform electronic calibration with calibration equipment verified against standards from independent regulatory bodies.
Fluid Property and Volume Calibration
To accurately determine a fluid's properties, companies need to measure temperature, volume, density and viscosity. Correctly measuring fluids improves product safety and detects contamination early in the manufacturing process. Pipette calibration involves determining pipette performance and adjusting it to its actual value.
Torque and Mass Calibration
When the automotive and machine manufacturing industries need to measure torque, they use torque devices during production. With regular torque and mass calibration, manufacturers can ensure their instruments deliver the necessary tension to the fastener.
Surface Plate Calibration and Resurfacing
Surface plates must meet flatness specifications for accurate measurements. These plates may have peaks or depressions from wear, which means they also need resurfacing from time to time. Surface plate calibration and resurfacing are vital for ensuring products meet industry standards.
When choosing a calibration service provider, consider if the company has all of the capabilities your application needs.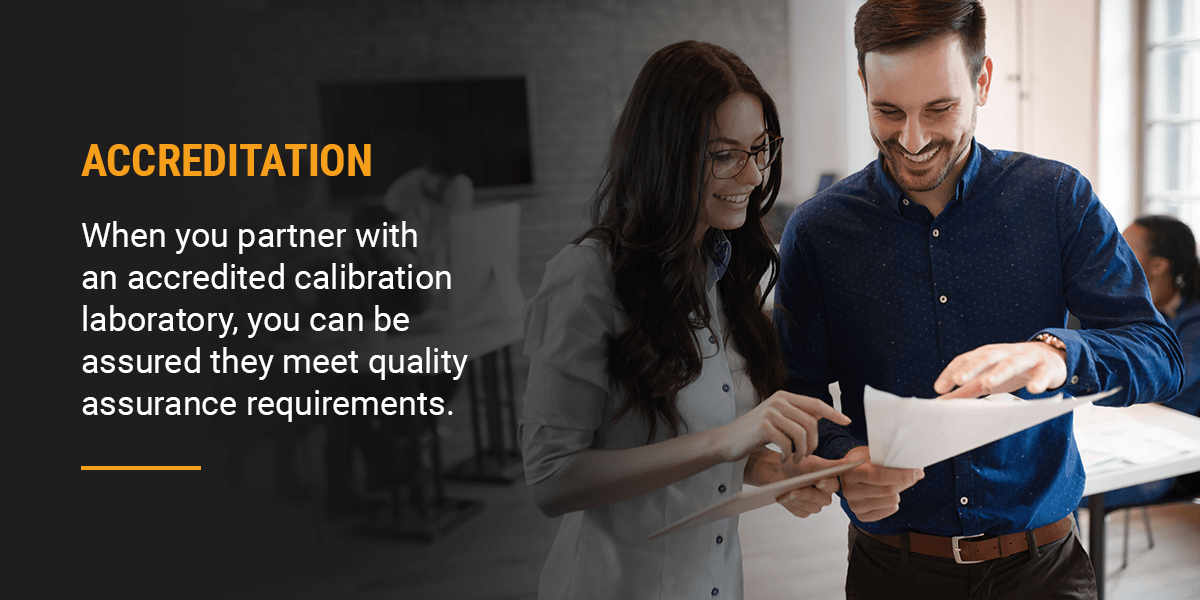 3. Accreditation
Another quality to look for in a calibration lab is whether it meets third-party accreditation standards. It's crucial to use a calibration service provider with accreditation from third-party standardization organizations. This is because accreditation ensures that a lab's calibrations are accurate. When you partner with an accredited calibration laboratory, you can be assured they meet quality assurance requirements.
Look for a calibration service provider with accreditations from several standardization bodies. Some of the most valuable accreditations for a calibration lab include:
ISO/IEC 17025
This accreditation comes from the International Organization for Standardization (ISO) and provides requirements for a laboratory's competence, consistency and impartiality. Holding ISO/IEC 17025 accreditation is widely recognized as a primary sign of a laboratory's competence. The standard deals with five main categories — general, management system, structural, resources and process.
This standard is highly important for any calibration laboratory to hold, as it contributes to a lab's industry reputation and promotes efficiency, performance and compliance.
ISO 9001
Another significant standard is ISO 9001. Although ISO 9001 is less specifically targeted at calibration laboratories than ISO/IEC 17025, this widely-recognized standard is integral for implementing a quality management system (QMS). A QMS is a structure of processes designed to assist a business with continual improvement.
Any business interested in providing quality products can benefit from ISO 9001 accreditation. The standard requires that a company documents its procedures to create a QMS manual. Regular audits from a certification body are also part of the accreditation process.
ANSI/NCSL Z540-1
One last accreditation is a standard from the American National Standards Institute (ANSI) and the National Conference of Standards Laboratories (NCSL).
The ANSI/NCSL Z540-1 Standard guides calibration laboratories regarding their measuring and test equipment. Accreditation with ANSI/NCSL Z540-1 involves testing a laboratory's electrical, dimensional, mass-related, thermodynamic and frequency metrology testing equipment.
ANSI/NCSL Z540-1 accreditation increases confidence in calibration laboratories and their testing and measuring equipment.
4. Customer Service
Dedication to customer service is one of the best qualities in a calibration lab. Calibration must be performed regularly, sometimes as frequently as every few months, depending on the frequency of use. Developing a professional relationship with a full-service calibration service provider ensures the calibration process goes smoothly and provides peace of mind that your equipment meets expert standards.
Here are a few customer service benefits to look for in a calibration lab:
Fast turnaround: When you need equipment calibration services but want to avoid costly downtime, look for a calibration company with fast turnaround times. You should be able to ask a calibration laboratory about how long it takes them to service equipment. Few manufacturers can afford to be without an essential piece of equipment for months as they wait for calibration. Look for a calibration laboratory that can complete the calibration in a few days.
On-call emergency response: Emergency calibration is another service to look for in a calibration company. Whether your equipment developed an inaccurate reading overnight or you need to check for possible product contamination, getting quick calibration service is a significant benefit. Some calibration laboratories even offer emergency service calls 24 hours a day, seven days a week, 365 days a year.
Knowledgeable technicians: If you acquire on-site calibration services, you want technicians who understand the methods needed to calibrate your specific equipment. Search for a reputable calibration company with professionally trained technicians who can perform on-site calibration.
Multiple ways to calibrate: Many calibration labs will perform field calibration, where they send a technician to your company's location to perform the calibration on-site. While this method saves time on shipping, calibration may not work if temperature and humidity interfere with sensitive devices. Look for a calibration service provider that offers multiple calibration methods, including on-site and laboratory calibration. If the lab provides regional pickup and delivery, that's another bonus.
5. Experience
When it comes to the accuracy of your measurements, you need expert calibration services that ensure your equipment's performance. Consider a calibration company with several years of experience in the field. Benefits of working with an experienced calibration service provider include:
Full-service precision calibration services
Professional, experienced technicians with the expertise to troubleshoot equipment issues
Equipment repair services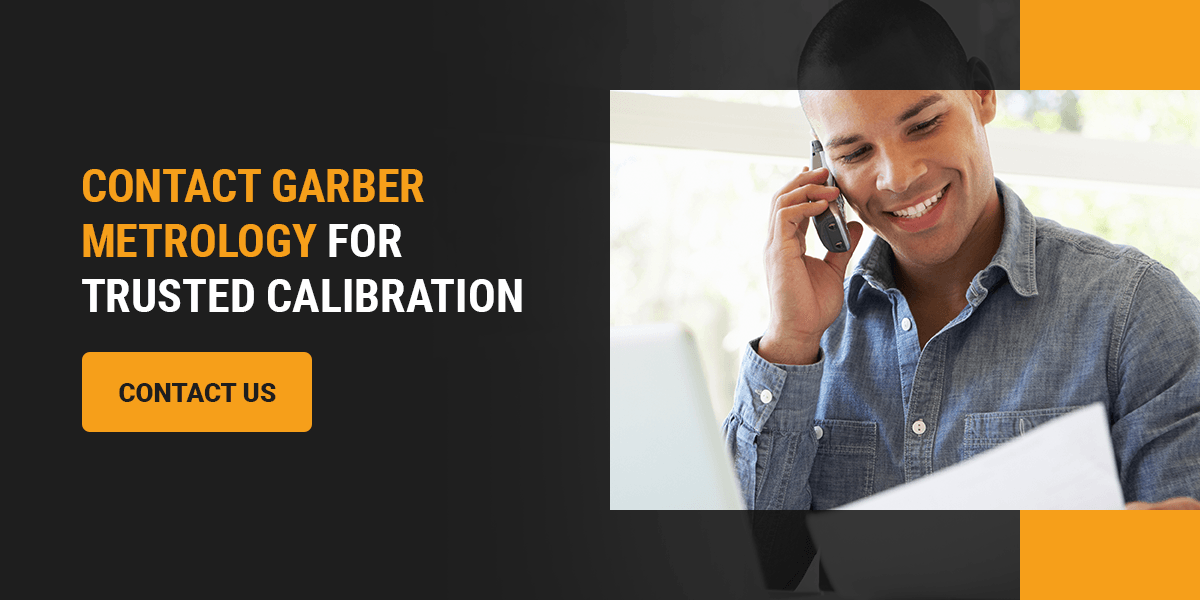 Contact Garber Metrology for Trusted Calibration
When you need your measuring and weighing equipment calibrated, choose Garber Metrology as your calibration service provider. You can trust our more than four decades of calibration experience and expert understanding of several industries to deliver precision calibration for all of your needs.
At Garber Metrology, we provide exceptional customer service, ISO-accredited calibration and fast turnaround times that aim to return your equipment to you within five business days. We also offer a suite of calibration methods, including on-site service and laboratory calibration in our temperature and humidity-controlled facilities. We also provide other benefits like shipping and receiving, regional pick-up and delivery and expedited services and more.
We are dedicated to meeting your calibration needs. Contact Garber Metrology today to learn more about our services and ask for a quote.