When you're looking for a laboratory to handle your equipment's testing and calibration needs, it's crucial to find a lab with ISO/IEC 17025:2017 accreditation. This set of standards shows that a lab complies with strict industry regulations and can deliver accurate, reliable results for you. Since any calibration service should be highly accurate to ensure your equipment performs at its best, you'll only want to trust a lab with an ISO 17025 certification for your equipment.
Find out more about what ISO/IEC 17025 is and who it is relevant to. You may also want to learn more about ISO 17025 checklists and the importance of receiving an ISO 17025 accreditation for labs.
What Is ISO/IEC 17025?
ISO/IEC 17025:2017 is the latest set of general requirements from the International Organization for Standardization (ISO) for laboratories' impartiality, consistent operation and competence. ISO 17025 applies to any and all organizations conducting laboratory activities, no matter how many personnel the laboratory employs. Due to the ISO's status as a world-renowned organization, laboratories in many countries must hold an ISO/IEC 17025 accreditation to be seen as technically competent.
Before ISO/IEC 17025:2017's implementation back in 2017, laboratories relied on the ISO/IEC 17025:2005. The most recent ISO 17025 is the third installment of these requirements, with the first version of it appearing in 1999. The 2017 version of the ISO 17025 modified the structure of the general requirement, adding additional requirement sections for all labs to follow.
The primary driving force behind revising the 2005 version of the ISO 17025 came from technology and market conditions changing. For example, the new version accounts for newly developed IT techniques, changes to vocabulary and technical factors. These revised standards also factor in the newest version of ISO 9001.
While this set of requirements is similar to the ISO 9000 standard, ISO 17025 is more specific to laboratories than the ISO 9000. For example, ISO 17025 is specifically geared towards organizations that create calibration and testing results. This set of requirements has more specific requirements to ensure laboratory competence and has more technical principles underlying its rules.
Who Is ISO 17025 For?
Most obviously, ISO 17025 is for laboratories, as it ensures they're operating safely and competently. Laboratories can use the requirements outlined in this set of ISO standards to improve their facilities and gain recognition for their professionalism from a widely recognized and respected organization.
Besides being for laboratories, the ISO 17025 is also for organizations and schemes utilizing peer-assessment, regulatory authorities, accreditation bodies and laboratory customers, among others. If a lab doesn't have an ISO 17025 accreditation, many regulatory authorities and suppliers won't view their testing and calibration results as trustworthy. Due to the multiple ways different organizations, authorities and customers can use ISO 17025, many people rely on it for their testing and calibration.
ISO/IEC 17025 Checklist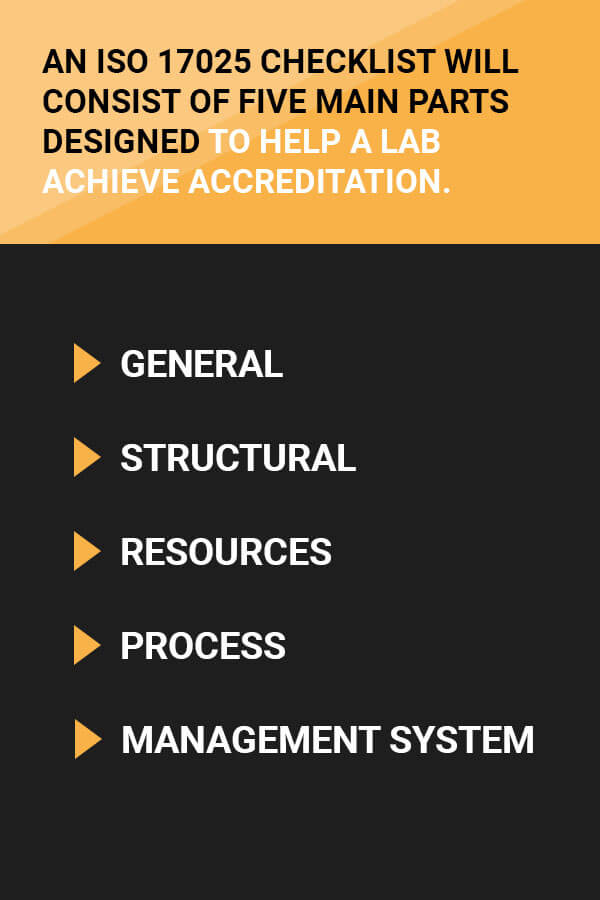 Since ISO/IEC 17025:2017 is so important to a laboratory's ability to function safely and receive work from various customers, many laboratories work off an ISO 17025 checklist to ensure their lab meets this standard's requirements. A checklist can help a lab prepare for and ultimately pass ISO 17025 certification, as a comprehensive checklist will cover all of the relevant criteria a lab must meet.
Usually, an ISO 17025 checklist will consist of five main parts designed to help a lab achieve accreditation. These primary sections include general, resource, management system, process and structural requirements. Find out more about each of these primary elements of an ISO 17025 checklist below:
1. General
The general section of a checklist will cover the general requirements of ISO 17025 necessary in order to receive accreditation. Some of the primary criteria in this section check for a lab's impartiality regarding their management, responsibility, risk identification, risk mitigation and activities. This section also covers confidentiality related to a lab's responsibility, the release of customer information, personnel confidentiality obligations and customer information originating from other sources.
2. Structural
Part of a lab's structural requirements refers to its legal status and the identification of laboratory management. The structural section of a checklist will also cover the laboratory activities' scope, the conduct of laboratory premises and activities and laboratory management responsibilities. You can also find structural criteria referring to personnel resources and authorities and the lab's documentation, personnel and structure.
3. Resources
The resources section of an ISO 17025 checklist starts with general requirements for a lab to have the appropriate available resources to perform various activities. This section also covers personnel, equipment, environmental and facility conditions and metrological traceability. A detailed checklist will cover externally provided products and services as well.
4. Process
A comprehensive checklist will cover a lab's process requirements, beginning with the review of contracts, tenders and requests. This section also focuses on the selection and verification of various methods, method validation, sampling and the handling of calibration or test items. You'll also see this checklist covering the evaluation of measurement uncertainty, technical records, standard report requirements, result validity and complaints, among many other important process requirements.
5. Management System
Finally, a comprehensive checklist covers management system requirements, such as system options, with this section covering policies, objections, competence, laboratory management, management system access, document control processes, record retention and audit requirements. The next section of a management system checklist will include information on record controls. This part of the checklist will also include criteria for management system document control, record control, proper risk and opportunity actions, corrective actions, management reviews and internal audits.
Importance of ISO 17025 Certification
Due to the reliance on an ISO 17025 certification to demonstrate a laboratory's competence, safety and the ability to stick to high-performance standards, it's one of the most important certifications for any laboratory to have. Achieving accreditation can provide several advantages to labs that they can pass on to their customers.
Below, we'll review some of the benefits of receiving ISO 17025 certification to understand why it's so critical for labs and their customers.
1. Improved Industry Reputation
ISO 17025 is one of the most widely recognized standards for those in any industry operating labs. This standard is recognized nationally and internationally, making it vital for any laboratory to have if they want to do business. With an ISO 17025 certification, a lab will boost its reputation within its industry, increasing its credibility among customers and shareholders.
This certification raises a lab's reputation due to its ability to showcase the lab can deliver reliable calibration, measurement and testing services. As a result, a lab's customers can know it'll deliver high-quality results. When a lab has an ISO 17025 certification, it also shows it has an established and highly secure quality system.
2. Better Efficiency

Meeting ISO 17025 requirements can increase a laboratory's overall productivity and efficiency. While it can take a little bit of time to become ISO 17025 compliant, the efficiency benefits following the implementation of these standards far outweigh the time it might take to implement them.
These compliance standards will have a laboratory constantly evaluating their methods, equipment and staff procedures. Due to this constant evaluation, the laboratory will be more likely to find accurate results faster. These standards also help labs better define their staff's roles and increase team members' accountability. By ensuring their staff follows various compliance standards, a lab's staff is more likely to be more productive and perform tasks in the most efficient manner.
3. Greater Performance
It takes some time to attain ISO 17025 certification, as a laboratory must meet various kinds of criteria before they receive accreditation. Since these standards are so strict, a lab that rises to the challenge and achieves certification can raise its overall performance. The strictness of these standards helps companies raise their performance by setting high standards for a team to meet, resulting in fewer mistakes and greater quality products.
After a laboratory passes, they'll still need to maintain their ISO 17025, with inspectors coming periodically to check to see if the laboratory is still complying with standards. Due to these consistent inspections, a laboratory has ample incentive to maintain high performance over time. As a result, a laboratory will often produce more reliable and accurate results in the long run, without letting let standards slip as time goes on.
4. Increased Compliance
Whenever a customer turns to a laboratory, they likely want to ensure the lab follows all of the various legislation and regulatory requirements governing their industry. This compliance shows the customer they won't run into any legal problems with their equipment in the future and can expect their equipment to work at its best.
A laboratory that has an ISO 17025 certification shows potential customers that it's complying with relevant regulations. Besides appealing to customers, this accreditation also protects a laboratory from running afoul of regulations and requirements that could result in fines or other kinds of legal trouble. With an ISO 17025 certification, a laboratory demonstrates to customers and regulatory bodies that it's following all relevant safety and performance requirements.
5. Reduced Spending and Time
Sometimes, laboratories are resistant to achieving ISO 17025 accreditation, as they worry it will take too much time and money. However, meeting ISO 17025 standards can result in generating greater savings in terms of money and time. Though it takes some time to comply with these standards, a lab will see significant benefits after implementing them.
One of the ways ISO 17025 compliance assists with long-term time and spending savings is by taking away the need for a lab to retest various products. This compliance also removes the requirements for a lab to pay independent organizations for supplier audits. Another way compliance decreases a lab's spending and saves on time is that it helps them avoid mistakes that would require them to redo their work or handle poor customer feedback.
6. More Business Opportunities

Another advantage of attaining an ISO 17025 accreditation is that it often translates to an increase in business for a lab. Since ISO 17025 showcases that a lab is complying with regulations, has an excellent industry reputation and can handle tasks efficiently, a customer is more likely to trust a laboratory with their business.
As a lab takes on new clients, they can use their ISO 17025 certification as evidence they handle key processes correctly and reliably. A lab with accreditation is also more likely to provide better customer service and deliver reliable services, resulting in higher customer satisfaction and raising the chances a client returns for business in the future. As a result, a lab will often see an increase in overall business, both nationally and internationally, when they achieve an ISO 17025 accreditation.
Garber Metrology Is ISO 17025 Accredited Through ANAB
At Garber Metrology, we know how important it is to be accredited, and we're proud of our ISO 17025 accreditation through ANAB. Since we offer precision calibration services, we take our certification status very seriously by constantly ensuring the processes, staff members and equipment we rely on meet various ISO 17025 criteria. Due to our commitment to maintaining our certification, we regularly provide highly accurate calibration services to our clients.
Alongside our ISO 17025 certification, we're also ANSI/NCSL Z540-1-1994 accredited through ANAB and ISO 90001 registered by NQA. Our many certifications make us a top choice for many companies looking for calibration services. Since we follow these accreditations guidelines, our clients can always expect high-quality, efficient and accurate testing and calibration services.
The primary way we ensure compliance is through our Quality Program. This program relies on four main steps that follow ISO/IEC 17025 and ISO 9001 requirements. These four steps fall under a methodology called Plan-Do-Check-Act. Find out more about these four main steps to see how we can deliver excellent results for your needs:
Plan: In the first step, we take time to establish the processes and objectives for a project. After establishing an objective, we focus on using processes designed to meet or exceed our client's policies and requirements.
Do: With the objectives laid out and the appropriate steps identified, we implement the relevant processes.
Check: While we implement various processes, we make sure to constantly monitor and measure them and the products these processes produce. Our team will check our results against your objectives and policies to ensure we're meeting your needs. In this stage, our team will report all results for other members to analyze.
Act: Since our team reports results, we can adjust processes to make sure you get the best service possible. In the final stage, our team will act on the results from previous processes to improve them and deliver better quality results in the future.
Turn to Garber Metrology for Your Calibration Needs

Since we're ISO 17025 certified and committed to producing high-quality results, you can trust Garber Metrology for your calibration needs. We understand how important it is for our staff and equipment to comply with ISO 17025 criteria, and we ensure all of our services meet the highest standards. You can send your equipment to our testing calibration laboratories, or we can come to your facility, helping you receive unparalleled calibration services at your convenience.
Review our precision calibration services today. Please feel free to contact us if you have any questions or want to receive a free quote.