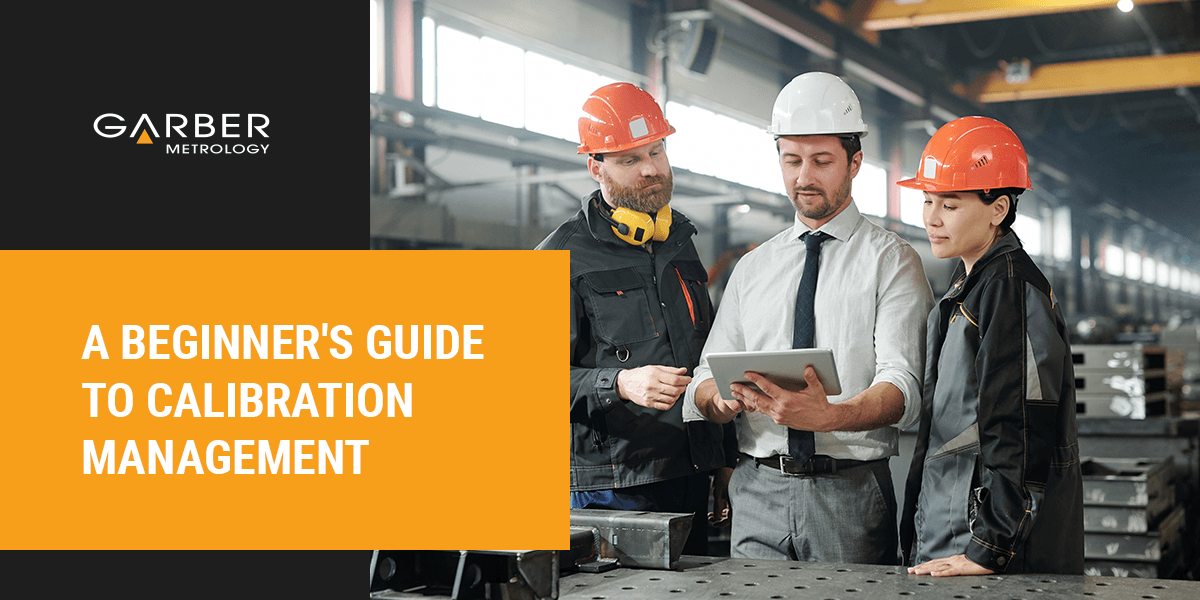 A long time ago, early industry businesses required manual procedures in order to remain in top working condition. When industrialization became the new normal, manufacturing companies took the lead with newer technologies as they emerged. As manufacturing businesses expanded and competition between manufacturers became more aggressive, the industry couldn't keep up with demands from manual processes and machinery alone. This is when the industry turned to automation to stay on top of emerging needs.
Automated technology has made waves and continues to further the efficiency of businesses worldwide. There is no longer a need for excessive manual labor in order to keep up with production, which has helped these businesses grow exponentially. With the continued success of this autonomous machinery, the need to make sure that these machines are calibrated and in working order is more important than ever.
Why Is Calibration Management Important?
Using machines is quite efficient since it reduces the amount of risk that employees are subjected to and they can work longer hours and at a quicker pace. However, machines still do suffer from problems of their own — this is where calibration comes in.
Calibrating a machine means checking an automated device or machine for accuracy. You can calibrate a machine by comparing it to the industry standard. A record is usually kept of these calibrations to see if the machine or device is working better or worse than it had previously and if it is keeping up to the established standard. The important things to compare in each report are:
Whether or not the device has been error-free.
If an error was detected but no change has been made.
If an adjustment was made due to an error found.
These factors will determine how often you need to conduct calibration tests. These tests should be done consistently throughout the time that each device or piece of machinery is in use. The frequency of scheduling calibration tests will vary, however.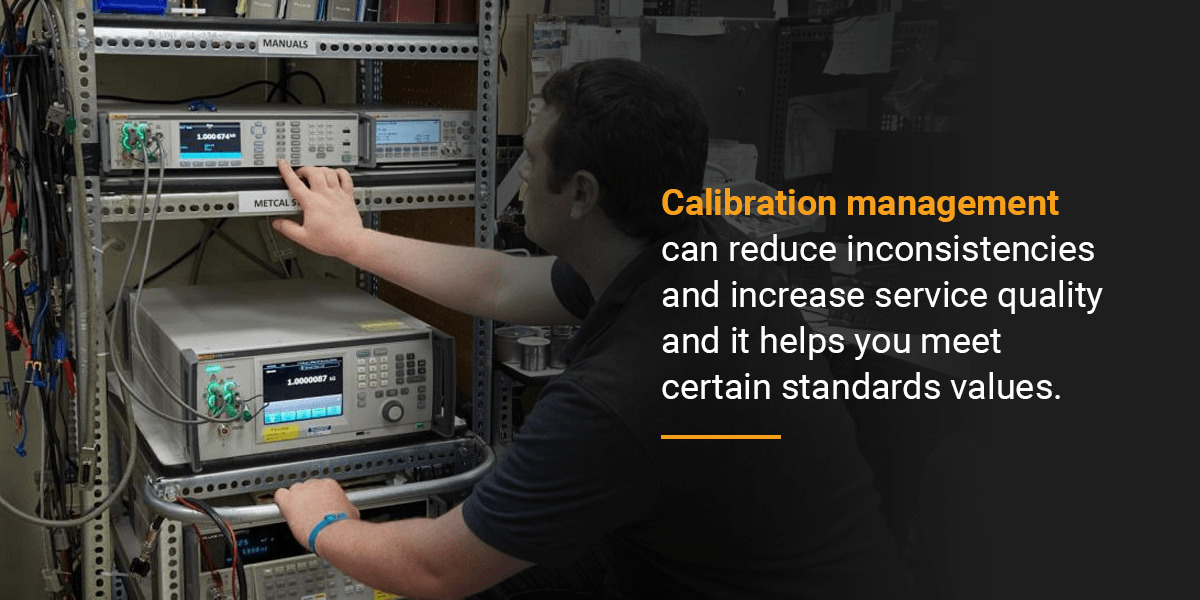 For example, if your machine has undergone some form of damage or is older and has signs of deterioration, you may need to schedule more frequent calibration tests. The amount of work that the machine does, the importance of the machine to your business's function and the overall stability of the machine all play a part in determining how often you need to calibrate.
In general, machinery should be calibrated once every year. The timeline for this can alter based on varying needs, such as devices that require more frequent fine-tuning. Machinery that seems to be in working order during every annual check with no adjustments necessary can push calibrations back to every two years instead.
Calibration management can seem like a lot to handle on top of all of the other necessary requirements of trying to run a manufacturing business. But the reason that calibration management is so important is that accuracy plays a huge part in the overall quality and performance of manufacturing machinery which, in turn, impacts the quality of the process or product that your business offers.
Calibration management can reduce inconsistencies and increase service quality and it helps you meet certain standard values. Regular calibration also keeps working environments safe and keeps machinery and devices in working order for a longer period of time. This reduces overall costs for businesses that would otherwise have to spend money to frequently replace vital equipment.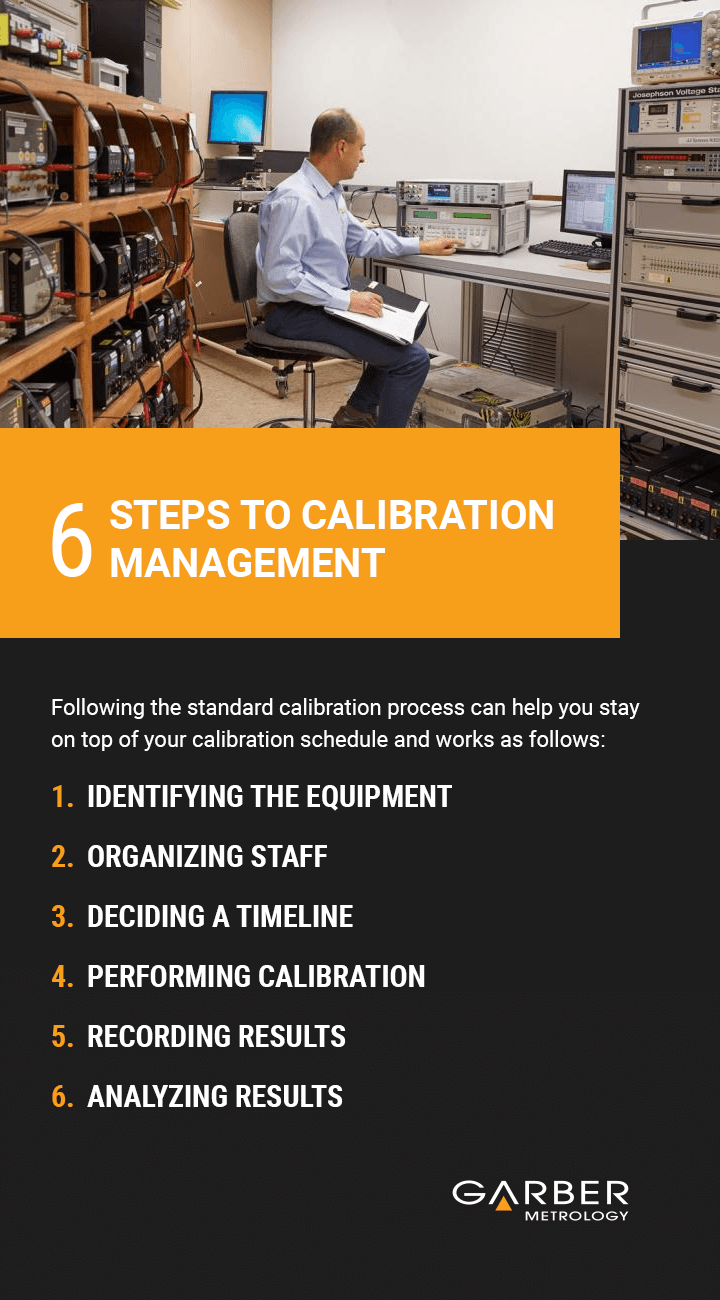 6 Steps to Calibration Management

An effective calibration solution requires the best calibration management system and team. Following the standard calibration process can help you stay on top of your calibration schedule and works as follows:
1. Identifying the Equipment
A business should always know what equipment and machinery they have and have a list on hand. This list should be split into two categories of critical and non-critical:
Critical: A critical piece of machinery is equipment that needs to be checked and calibrated first before any of the other, for any given reason.
Non-critical: This machinery must still be checked, but the factors of calibration aren't as pressing as they are with critical machinery. Equipment that is no longer necessary should be marked for removal.
During this stage, calibration levels should be decided upon for each individual device and each piece of equipment should be measured for its current calibration status.
2. Organizing Staff
A key part of calibration management is organizing a qualified and knowledgeable staff to assist with calibrating machinery. The equipment manager is in charge of ensuring that all staff is properly trained to calibrate the equipment. The training must cover the use of certain tools and how to carry out the different tasks involved in calibration. They must also stick to the specified schedule so that calibrations are done on time.
Choosing the right staff will help you get the most out of your calibration testing.
3. Deciding a Timeline
Deciding when to conduct a calibration test will vary from one business to the next. The state of the machinery will also play a big part in how often these tests are done. There are a few other times to conduct a calibration test rather than during the annual, bi-yearly or monthly check-up. A calibration manager should conduct a test:
Before and after a big measuring project in which different metrics are collected.
If the machinery or device has sustained some damage of some kind.
Other requirements from specific jobs.
Once this timeline is established, it should be strictly adhered to in order to ensure that all machinery stays in working order. Establishing a good staff can assist with this too since they can help you stay on track.
4. Performing Calibration
Now it's time to move ahead with the actual calibration testing. This test is done by the staff that was previously organized by the equipment manager. All safety procedures should be strictly followed during this time. As the calibrations are conducted, notes should be taken for documentation later. It's important to pay specific attention to the calibration levels that were determined in the first stage of this process.
5. Recording Results
Once you complete the calibration tests, the collected calibration data must be recorded and properly documented. The process in which the calibration tests were done must be recorded as well as the findings, which are important for maintaining an accurate record. These calibration records will be used at later dates to compare the difference between past and current calibrations, which can also help determine how frequently calibration tests should be conducted.
6. Analyzing Results
Now that the results are in, the equipment manager must analyze all of the data found to determine if any errors exist and if any action needs to be taken. If a problem is found, then there are different measures that can fix the issue depending on the severity. In some cases, it will simply require that the machine undergoes some preventative maintenance before it's in working order again. In others, it means that a piece of equipment needs to be entirely replaced due to severe working issues.
How Does Calibration Management Software (CMS) Work?
Businesses keep growing and it can be difficult to keep up with all of the machinery that stems from that growth. Approximately 44 percent of companies conduct over 2,000 calibration tests yearly. These tests help keep businesses running smoothly, but they can be tiresome. That's where calibration management software comes in as an effective solution.
Calibration management software (CMS) is a program designed to assist with scheduling calibration activities and procedures. This software also has the ability to schedule preventative maintenance so that you don't have to. The information it collects is also stored and backed up so that you don't have to worry about losing your files.
Every monitoring software works differently and can fulfill certain needs required of different industries. However, all systems typically share certain key factors. The way calibration systems like these work may seem complex, but here is how it all breaks down:
Automating Calibration
CMS assists with calibration by automating the process. All scheduling is handled within the software and certain manual tasks are automated. The automated system can also help you maintain accurate records and access them when you need them.
The workflow is also streamlined since there is no longer a reliance on certain manual tasks. As the tests are conducted, the automated system can also compile the reports and sort the information efficiently so that it is accessible to the equipment manager. The need to sort this information into a pile of spreadsheets is no longer required. CMS also has the ability to make recommendations based on its findings.
Determining Requirements
CMS gets rid of the need for equipment managers to determine the requirements for the calibration tests. Instead, the system uses the current data and information from past tests to determine what requirements need to be fulfilled during the calibration. This helps streamline the process just a little bit more, making the staff's jobs a bit easier.
Developing Action Procedures
The automated CMS can also build a recommended action procedure for calibration testing. Once the requirements have been determined, then actions must be taken to conduct the test and ensure that all testing requirements have been fulfilled. A CMS will help make sure that a plan is made for testers to follow based on recommendations from the system as well as the equipment manager.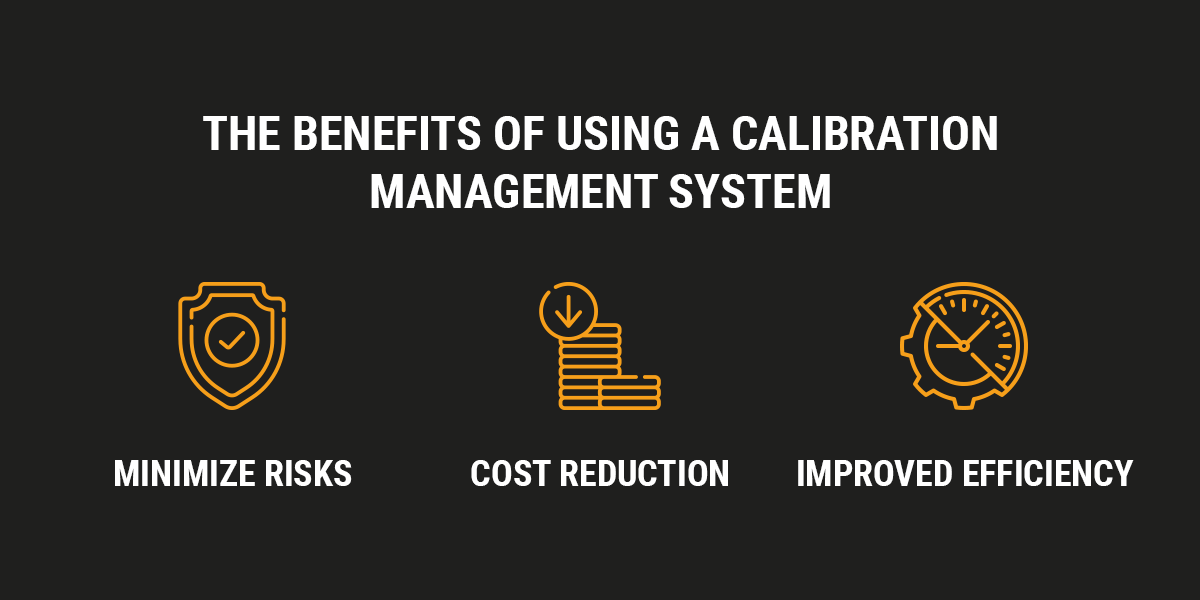 The Benefits of Using a Calibration Management System
Minimize Risks
A CMS can produce a set of instructions for the staff that will be conducting the calibration procedures. These instructions are made based on the information found during previous tests and once the requirements were determined. This can also include instructions for safety during the testing. These instructions help minimize risks by reducing the chances that a system is improperly calibrated or that a staff member gets injured during the process.
Cost Reduction
Using a CMS will help you save time, which in turn, helps you save money. Manual documentation is no longer necessary and the quick access of records and accurate calibration keep mistakes from happening, reducing the chances that equipment needs to be fixed or entirely replaced.
Improved Efficiency
Automation is making everything more efficient for industries everywhere, and the same can be said about CMS. With this system, employees can spend more time elsewhere and quick and efficient calibration helps speed up the workflow. Because of this, manufacturing plants are able to produce more at a quicker rate than they would be if they were conducting their calibrations manually.
The Benefits of Working With a Calibration Professional
All businesses need to have their equipment calibrated to ensure that it is in working order. A properly calibrated machine will work at its best and its efficiency will provide your business with increased productivity. Using a calibration management solution is one way to help along the process, but working with a calibration professional can make it even more efficient.
Garber Metrology has a team of calibration professionals that are highly trained and experienced in their field. Partnering with a calibration company has many advantages.
Firstly, you're more likely to save money if you work with a professional as opposed to doing the calibration yourself. No money has to be spent on training and these professionals can often work quickly with more accurate results. Since these professionals are certified, their services and assessments are more frequently provide businesses with the most accurate results that can be verifiable through their provided reports.
Since calibration has to be as accurate as possible, it is also important that a secure lab environment is created. This can be difficult for businesses that attempt to calibrate themselves. Calibration companies, however, already have this environment available to them, along with special equipment and measures in place to make sure they meet the standards set for different industries. This saves businesses valuable time and money
You'll often experience quicker turnaround rates as well when you work with a calibration company. Since these companies are solely focused on calibration, they can get the work done sooner than in-house members who may have other priorities or obligations to focus on first.
Calibration professionals will also typically provide you with a calibration certificate once the measurements and calibrations have been completed. This means that you now have verifiable proof for your records that calibration was done and that your machinery has been measured and assured of its accuracy.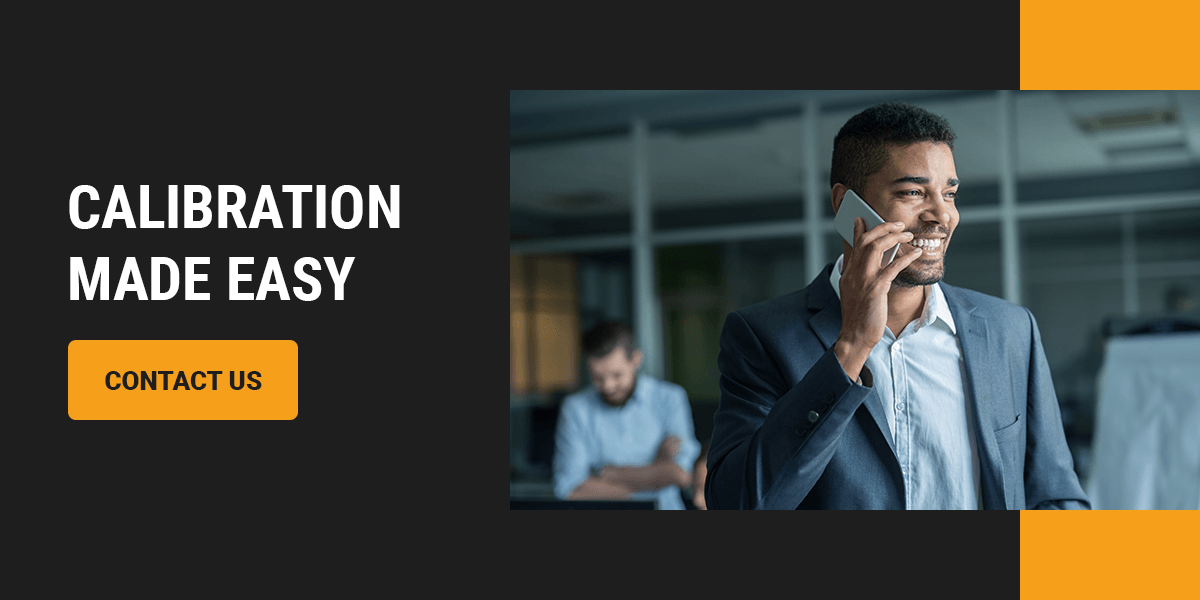 Calibration Made Easy
Keeping your equipment in working order is an important part of running a successful business. And equipment needs constant maintenance and calibration to keep up with rising demands. While calibration management can seem difficult, there are professionals who can help you streamline the process.
Garber Metrology offers precision calibration services to help keep your equipment in peak physical condition. You no longer have to worry about staying top of your calibration schedule, our highly trained and qualified staff have got you covered. Calibration has never been easier than if you partner with Garber Metrology.
Contact us today to request a quote and speak with a representative about calibrations solutions for your equipment.