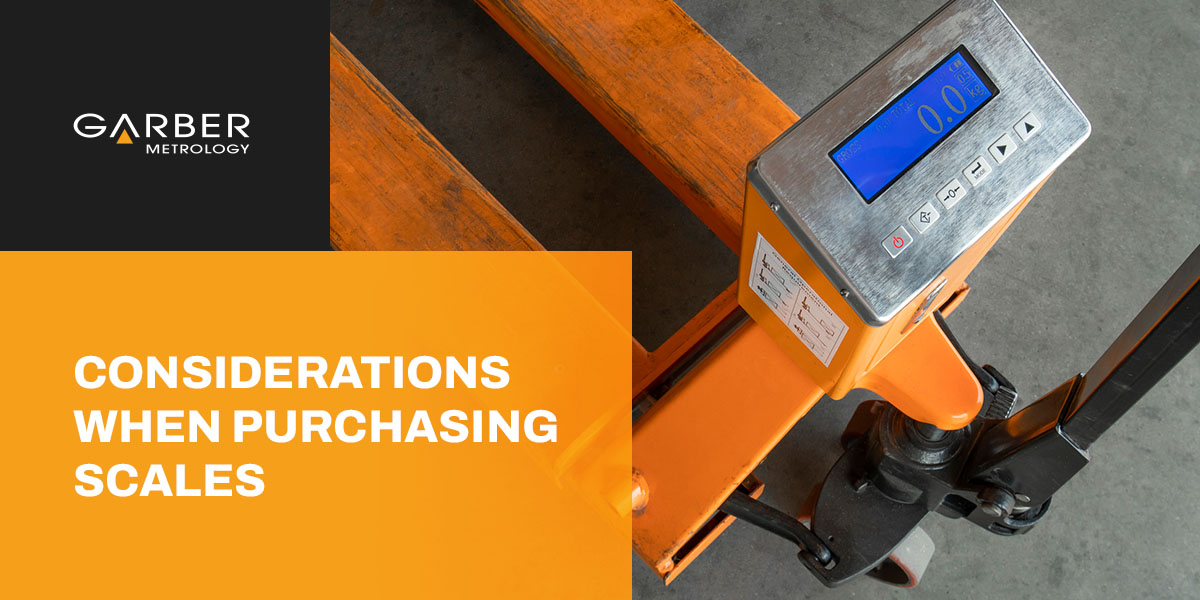 Purchasing a new scale is a considerable investment. Before approaching the research and consideration phases, you should know what elements you need to think about when reviewing different makes and models. Knowing key factors about your weighing needs makes the purchasing process smoother.
What to Consider When Buying a Scale
Here are the top considerations and tips to help you purchase a new scale:
1. Capacity
One of the main factors you should consider when buying a scale is the model's capacity. Depending on your industry and operations, you need a scale that matches what you need to weigh. The scale capacity will often depend on the largest load you will weigh with that scale. By determining your largest load size, you can then search for scales with higher capacities than that.
When determining the right load and capacity for your business and operations, you should also consider any tare or containers you need to weigh your products. For example, you will need some kind of container if you weigh liquids. While tare functions will ensure you can accurately measure the liquid, the weight of the container might require you to increase your minimum load and capacity.
2. Accuracy
Regardless of your industry, accuracy is the backbone of weighing. When you use your scale to measure your products or materials, you need to ensure you can rely on the provided results. Before exploring scale options, establish your accuracy standards to find a manufacturer and distributor that matches your expectations with their products.
Accuracy will also reflect the scale's maintenance requirements. Scales need regular calibration to keep their accuracy. Your facility's conditions will affect how frequently equipment needs to be calibrated to maintain accuracy. Other recalibration factors include:
Temperature fluctuations.
Movement throughout the facility.
Exposure to various elements.
3. Size
Like your scale's capacity, you should also consider your sizing needs. Your scale's size depends on the size of the products and materials that need measuring. A pharmaceutical company might need a smaller scale than a company producing automobile parts. The scale's platform should be able to securely fit your product, materials and containers without the risk of them falling or spilling.
Your facility's available space will also influence the size of scale you can buy. Before investing in a new scale, measure the space where it will go. Whether you are fitting it between other equipment, having it stand-alone or settling it on a benchtop, spacing will help determine what size you need.
Another aspect you should consider along with the sizing is the platform's placement. Some scales have raised platforms, while others are lowered and flush with the rest of the equipment. Heavier materials might be harder to lift with a raised platform, creating the need for additional equipment to get it on the scale.
4. Material
You can also search for models by material. Stronger materials can increase scale longevity, protecting it from dents and physical wear, especially if working with heavier materials. You might also consider finding a material or coating that protects against scratches and scrapes to further preserve the quality of your investment.
Some other material considerations include:
Anti-bacterial surfaces.
Liquid-resistant materials.
Easy to clean materials.
Your chosen material should enhance functionality and ease maintenance to help support the scale's life span and performance.
5. Readability and Precision
Readability refers to the number of decimal places your scale provides. Higher readabilities have more numbers after the decimal, creating increased precision, and vice versa. While some industries require heightened precision, others do not. Often, industry standards and operations determine what level of readability you need.
Precision and load capacity are closely linked. Industrial and commercial scales with higher load capacities often have lower readability scores. Knowing you need a higher load capacity and precision level for your scale can better hone your research efforts to connect you with the right dealers and manufacturers that make more specialized models.
6. Placement in Your Facilities
Your facility's conditions will heavily impact your scale's features and performance. A harsh environment can negatively impact the performance of a scale without the right protective features.
If you already know where you want to put your scale, assess the location's conditions. Additionally, consider your power source. Your location might have no access to a power outlet, so instead, you can consider battery power or a generator for your scale.
For some organizations and industries, you might need a mobile weighing solution. Whether you must cart your scale between facilities or departments, scale mobility is essential when researching.
7. Connectivity
Modern scales have multiple functions, allowing them to keep up with the needs of various industries and organizations. Many teams need scale data for other essential operations, meaning that scale information needs to continue past the scale itself. Connectivity features enable your scales to connect with other devices, from computer systems to machinery and equipment. You can optimize your data for quality control or automated operations.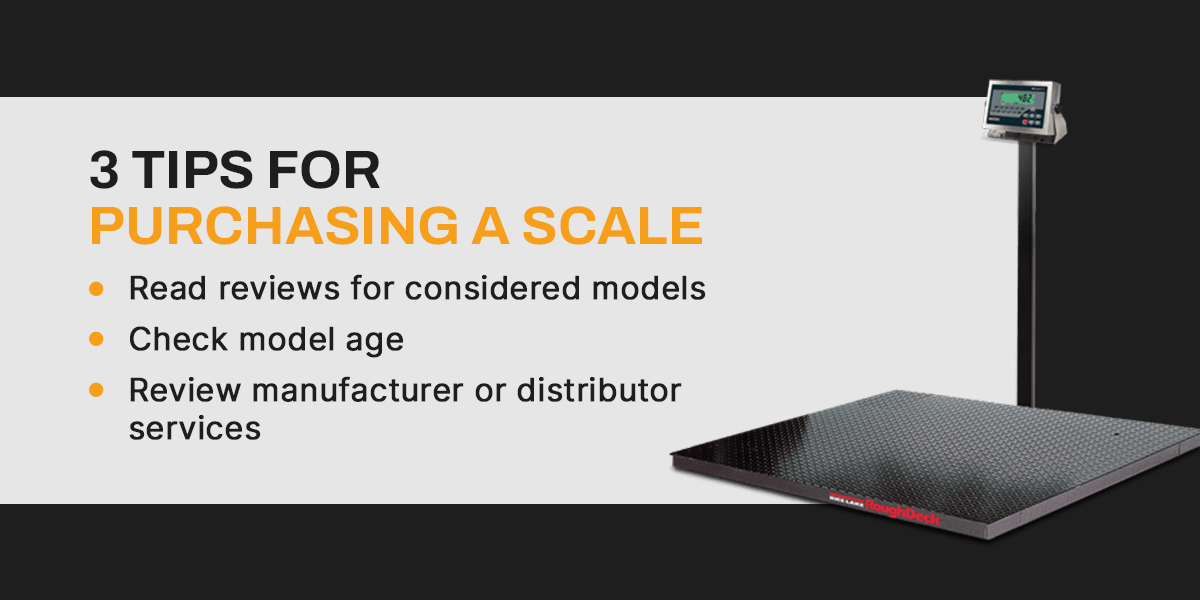 3 Tips for Purchasing a Scale
While reviewing the considerations in buying a scale is essential, there are other strategies you can implement to optimize your investment. When determining how to buy a scale, you can also:
Read reviews for considered models: If you have found a model you like and meets your requirements, you should read the available reviews. Other customers can tell you more about its performance and features, so you can decide whether it will meet your standards or highlight any potential pain points.
Check model age: Models can stay on the market for years, but technology can phase out quickly. Before making an investment, review the model's year and decide if the age is worth the investment. You can even research parts for this model to see if facilities still carry them. This method can prevent you from investing in obsolete equipment.
Review manufacturer or distributor services: Manufacturers and distributors often provide extensive services to customers. From delivery services and warranties to regular maintenance and repair programs, you can receive comprehensive support. With the right partnership, your company can receive more than just a new scale.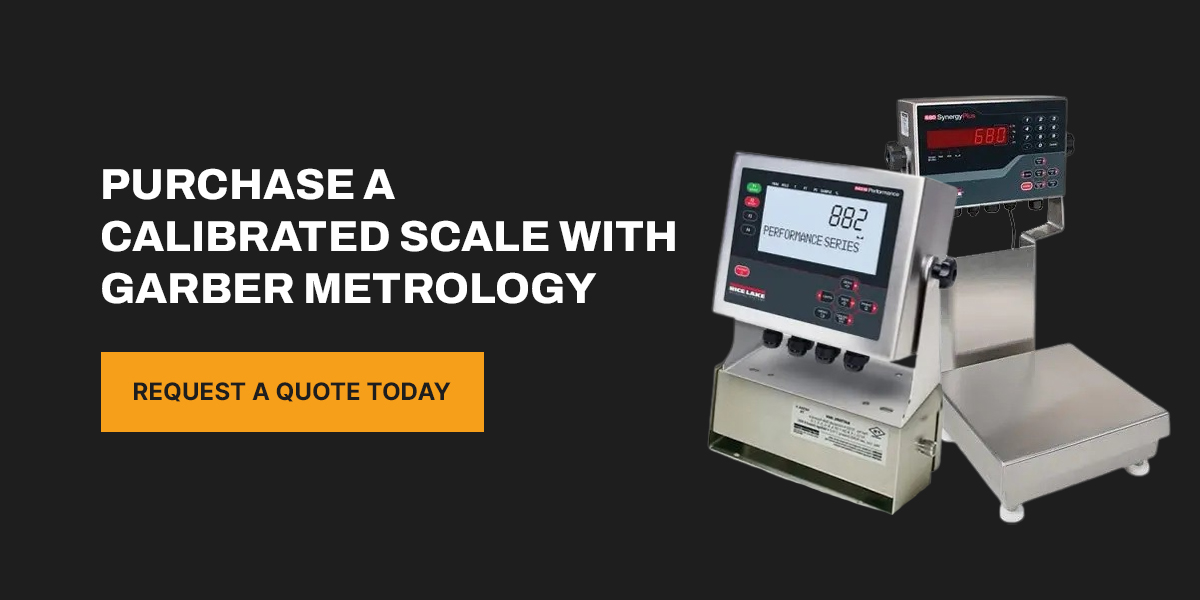 Purchase a Calibrated Scale with Garber Metrology
When you are buying a new scale, you want to make the process as simple as possible, and that includes implementation. You can streamline this process and reduce downtime by purchasing your scale through Garber Metrology so it will be delivered calibrated and ready for use.
Garber Metrology offers comprehensive calibration services, including on-site equipment calibration. Because calibration is so important to keep scale accuracy, investing in regular and initial calibration services can improve your scale's functionality and performance.
Request a quote today and discover how Garber Metrology can connect your business with the right scale for your needs.